Inside The Perfumer's Workbook®
Learning New Aroma Materials
Today in the world of perfumery there are several thousand aroma materials in use. New aroma materials, developed by research chemists, are being introduced annually. Most fragrance developers work with, and are intimately familiar with, a far smaller number of aroma materials. The Perfumer's Workbook database is pre-loaded with about 625 aroma materials. (Close to 325 of these are "natural" materials and The Perfumer's Workbook allows you to work with the "naturals" database alone, if you so desire.)
Click on image to enlarge
We open the formula for PW_JOY
---
Click on image to enlarge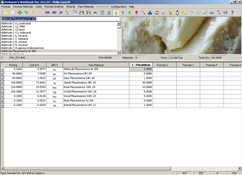 PW_JOY Formula Seen In Column 1
---
Click on image to enlarge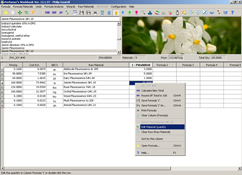 We click on "Edit Material Quantity"
---
Click on image to enlarge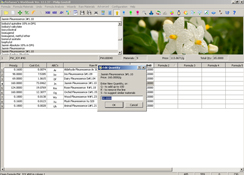 Enter "S" to "suggest similar materials"
---
Click on image to enlarge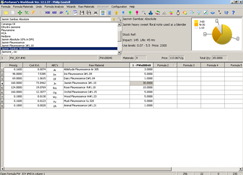 Brief RM Data/Image Panel
Most of us who are not engaged in full time fragrance creation would be hard pressed to claim a familiarity with even a fraction of the 625. For the many who started out in perfumery with the PerfumersWorld Foundation Course, our aroma palate may have originally consisted of no more than the 25 aroma bases and the single solvent that, in the PerfumersWorld teaching method, represented the ABC's of Perfumery.
But brilliant as these 25 aroma bases were (and still are!), we hungered for more - for information on aroma materials - fragrance molecules - which we had heard about or read about but perhaps never had the opportunity to experience.
The dilemma is simple. While you are starting with 25 materials, you would like to expand your scent knowledge by learning many more. But with, say, over 3,000 aroma materials out there to choose from, where do you start? The Perfumer's Workbook gives you assistance.
Start with a simple formula
Again leaning on the PerfumersWorld Foundation Course for guidance, an excellent starting point is to create your first formulas using the A-Z aroma materials included in the K26 kit. You quickly discover that with just these 26 materials you can create a huge number of types of perfumes. Often you can find yourself creating an exceedingly pleasing formula with just five or six of the A-Z notes. Now the fun can begin.
Open a formula
Since I don't have your formula to use as an example here, I've started by opening a pre-loaded formula, PW_JOY, a simplified PerfumersWorld version of Jean Patou's famous Joy, once advertised as the world's most expensive perfume.
Before opening the formula we see its brief description (top screen shot) complete with Odor Impact (100), Odor Life (78 hours on a test blotter), and Odor Profile described using The ABC's of Perfumery. We now open PW_JOY in Column 1 (screen shot 2).
Now let's say we would like to explore possible substitutes for "Jasmine Fleuressence J#1.10," one of the 26 aroma materials included with the Foundation Course K26 kit. To do this we highlight the QUANTITY of Jasmine Fleuressece ((30.00 grams) and RIGHT CLICK our mouse to bring up the menu shown in the third screen shot. We now select "Edit Material Quantities." This brings up the menu shown in screen shot 4. We are now prompted to either enter a new QUANTITY of the material or select a letter: "Q" to add up to 100, "R" to remove the aroma material from the formula, or "S" to suggest a (substitute) similar material.
Jasmine scents
Since we are looking for possible substitutes for Jasmine Fleuressence, we enter S and click the menu. Now, in the upper left section of the screen, above our formula, we see a listing of possible substitutes for Jasmine Fleuressence.
It may be that we are perfectly happy with Jasmine Fleuressence. We may have it on hand already and the price is quite affordable. Still, we would like to see what might make a substitute for Jasmine Fleuressence.
With my own formulas I frequently play this game. I look for possible substitutes, often aroma materials that are new to me, and then I order a small quantity of two or three, to see what they smell like and how they behave, even if I do not really want to change my formula. This is simply a chance to increase my knowledge and store it away for future use. (It is useful to note that materials shown in the database can be purchased directly from PerfumersWorld in small, affordable quantities. This makes it easy to have them on hand for future reference and future projects.)
But what do we know
about these other materials?
To help us explore the selected substitute materials we can toggle the "Brief RM/Data Image Panel" from the toolbar and information on the highlighted material will appear in the upper right panel, above our formula (bottom screen shot.)
In the bottom screen shot we see "Jasmin Sambac Absolute" highlighted in the top left panel and information about it shown in the top right panel.
Among other features of Jasmin Sambac Absolute we notice that its cost is given as $2300 per kilo (expensive!) but when we confirm this price with the vendor we find that the cost, as of 03/22/2013, has risen to $8250 per kilo (very expensive!) If we want to use Jasmin Sambac Absolute we may want to settle for a very small amount in our formula and then "extend" it with a less expensive jasmin material. (Sure, you think this practice is a rip off - until you are confronted with the cost for your fragrance!)
Besides the price, the panel in the upper right shows us Odor Impact (145, which is relatively strong) and Odor Life (45 hours on a test blotter, close to two full days). And, of great importance, the pie graph at the right shows us an Odor Profile for Jasmin Sambac Absolute. Does it appear to meet our needs? This p[ie graph help us decide.
Going down the list
If Jasmine Sambac Absolute doesn't interest you (or even if it does), you can go up and down the list of suggested substitute materials and examine their properties. Personally even when I order several materials from the list, I'll shy away from the very expensive ones other than to add very small amounts to a formula to enrich a particular note.
Then, what you've just done for Jasmine Fleuressence can be repeated for each of the other materials used in PW_JOY.
Order this fine product directly from our friends at PerfumersWorld
---
---
---
---
---
---
---
---
For article updates, etc., add your name to Phil's mailing list.
Philip Goutell
Lightyears, Inc.